'Save the Star' billboard
Dateline: Fri 23 Sep 2011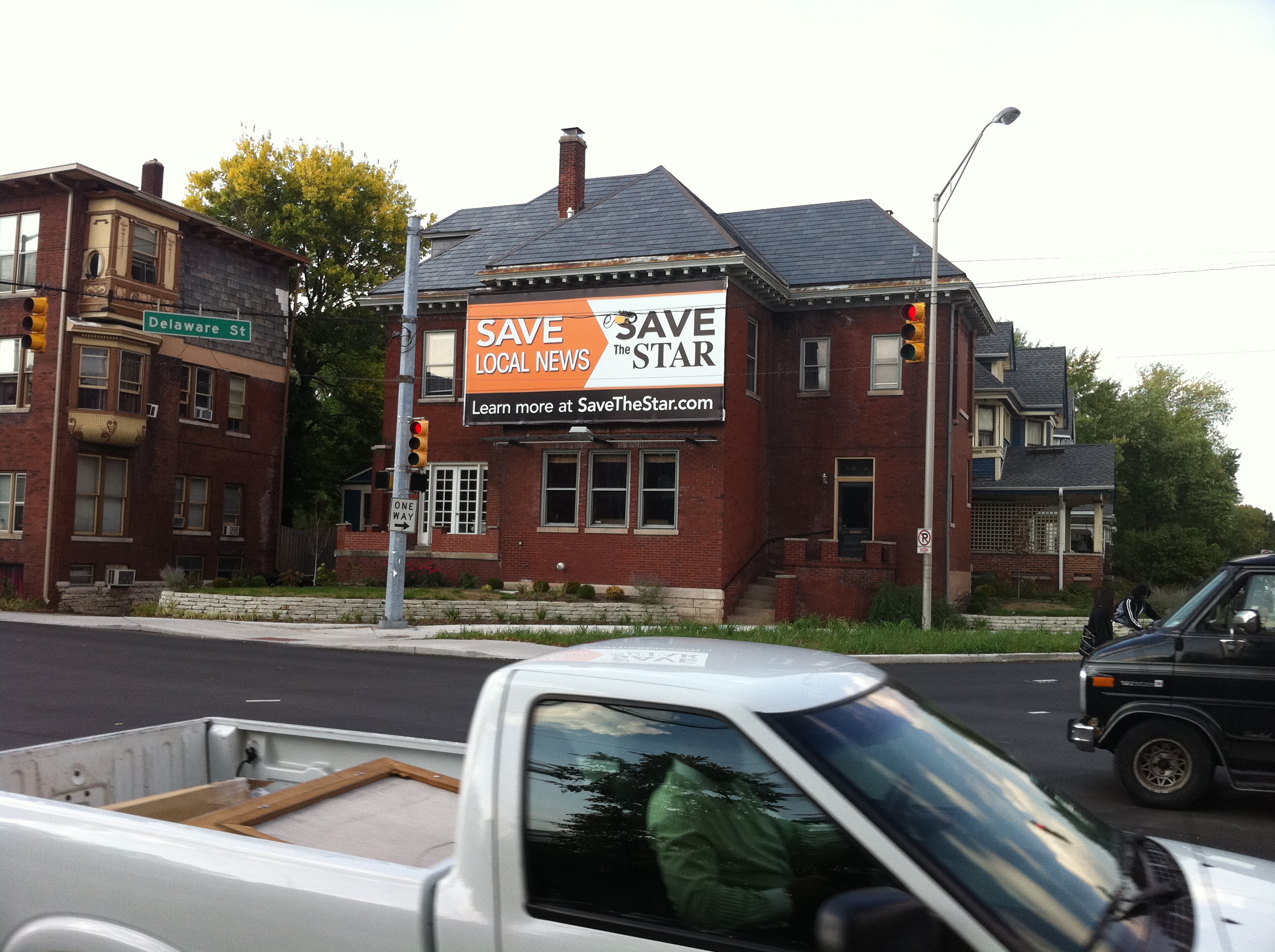 Here's what the gutty Indianapolis Newspaper Guild is saying about its Save the Star campaign:

INDIANAPOLIS -- Journalists and building service workers from The Indianapolis Star are calling attention to cuts in The Star's news coverage with a new billboard above Downtown that proclaims "Save Local News. Save the Star."

The billboard, at 16th and Delaware, is just part of a new campaign that includes the SaveTheStar.com website, radio ads, leafletting efforts and social media that's intended to pressure The Star into reinvesting profits into local news.

The campaign is being sponsored by The Indianapolis Newspaper Guild, Local 34070, which represents 122 newsroom workers and custodial staff at The Star. It is the Guild's response to four rounds of layoffs in the last three years, wage cuts, pay freezes and now a plan to outsource some local news jobs to a remote site in Kentucky.

Over the past three years, Gannett's cuts have reduced the size of The Star's news staff by 36 percent.

Despite working harder to produce the same newspaper, employees were forced to accept unpaid furloughs, a 10 percent pay cut and a pay freeze. Now Gannett wants to send jobs for some page designers to a regional hub in Louisville. Designers are a crucial part of the local news operation, especially when late-breaking news, such as the State Fair stage collapse, requires news pages to be ripped up and remade.

The wide array of cuts to The Star have been mandated by Gannett, the Star's Virginia-based parent company, even though The Star is very profitable, with profit margins estimated at more than 15 percent. Last year, Gannett made $588 million and awarded multi-million dollar bonuses to its top executives.

This week, Guild workers asked that the pay cuts be restored and cost-of-living increases be re-instituted. But they were told such requests were a joke. This, despite the fact Gannett CEO Craig Dubow received a 107 percent pay increase in April.

"We care about the community and want to continue to bring people the local news they can't get anywhere else. We'd also like to be treated fairly," said Guild president Bobby King. "Yet Gannett is making it harder for us to do our jobs, and even seems to prefer that talented employees move on so it can add a few more bucks to the executive bonus pool."
Comments
Comments are closed.