The guy with the bread on his head
Dateline: Tue 30 Aug 2011
Late-night Tuesday conversation with son Zera, 34, an IT guy, helped me understand how people in his age group get their news.
As he explained it, the old media was about a reporter going to cover a story, then reporting to his boss, then writing the story -- as the reporter saw it. The information rolled out the next day in a newspaper. Talking about my generation.
The new media, he said -- by which he means social media -- is about "8 million people witnessing an event, then immediately using their Smart phones to report on it, taking videos, commenting, writing their perspectives on Reddit, blogs" -- whatever. Instant communication. Personal. Powerful. And who is new media? Reddit.com, ("the front page of the Internet") Twitter, blogs, WikiLeaks, Facebook, blogs, et al. Letting a million flowers bloom.
Hence the man with the bread on his head.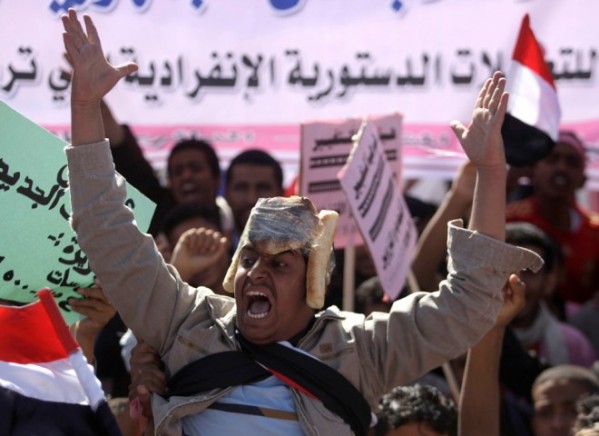 This singular image, posted all over the web, defined the revolution in Egypt to younger readers who saw the photo and "got it" -- the "Arab Spring" was this crazy visual moment, a man with bread for a helmet, as well as constant feedback and updates from Facebook.
The main point: my son did not read the Sunday New York Times or the Sunday Star to get up to speed on what was happening in the Arab streets. He got his information from alternative sources online, the ones cited. And he doesn't necessarily want "objective" reporting; he wants individual accounts of individual experiences.
Social media engages in "crowd sourcing," a process that has worked so well that Gannett is also trying to do it, by encouraging readers to write blogs and send in photos and putting reporters on Facebook. Gannett is lame in this department, however, in part because the Star's website is so awful and poorly organized. Not fun.
Reddit.com is where Zera first read about the Indiana State Fair collapse -- the night it happened. Videos of the rigging collapse were posted there by fans in the crowd. His information was supplemented during the Monday morning drive to work by NPR, which thoroughly covered the engineering problems in the rigging, lack of standards, etc.
Does this work?
Probably not for me, and certainly not as a replacement for the Star, IBJ and NYT. And Zera points out that the writing on Reddit is often lousy and amateur-sounding; you have to wade through a lot of junk before finding a nugget. But that argument sometimes applies to newspapers, too. Moreso at papers which no longer believe in copy editing.
The appeal of new media is largely in the quirkiness and light-heartedness: Zera talked about a reddit post, "Tell Me About the Guy at Work," which he found fascinating -- it's a common denominator that we all know some office weirdo we're curious about. He also liked "Forever Alone," a popular meme (a unit of cultural information). For my generation, a meme would be "Kookie, Kookie, Lend Me Your Comb'; you hear that, and you know the era, the styles, the music, etc.
For them, "Forever Alone" covers this sense that in America, we are, despite our superficial connectedness and the pull of social media, "forever alone...."
Hence the meme is about a guy who, anticipating a nice evening at home with a movie, choked on popcorn, thought he was going to die, writhed on the floor, dislodged the kernel, yet felt "forever alone" since it happened when he was by himself in his lonely apartment. Google it on images; you will get the picture. It's an icon for a new generation of non-newspaper readers. It works for them.
Our discussion included Julian Assange of Wikileaks, who is regarded by many younger guys as a brave new innovator, because he provides information that breaks through government barriers -- doing so with the help of a few rogue informers or anyway he can get it. Forget about Freedom of Information requests that the old media dances through.
I may open a Reddit account; maybe not. (Having an account would allow me to submit stories...the reading is all free).
But don't fool yourself that this, too, is a business -- when Reddit got enough heft, Conde Nast bought it in '06.
So it goes. The new media.
It's here. Embrace it, or be forever in the mist....
Comments
Comments are closed.