The Star: peddling soft porn
Dateline: Sat 27 Jun 2009
The Indianapolis Star's Metromix web site is a bad boy (or girl). And like all bad boys, and girls, it grows tiresome quickly.
From a financial perspective, Metromix is Gannett's really ridiculous effort to draw hip, young readers online.
In psychological terms, Metromix is the Star's Id (as in Ego, Alter Ego, and that pesky, noisy Id -- always acting out, testing, testing, testing). And in that, Metromix has nothing to do with real news or news-gathering.
Here is the official definition of Metromix:
"your one-stop local entertainment guide on where to go and what to do in Indianapolis, from the hottest restaurants and bars, to the latest in events, music, movies, style, and TV."
Life is a cabaret. But where oh where is the soft porn disclosure?
Check out the photo below, sent by a reader, from today's Metromix.
This reader is struck by the newspaper's inconsistency -- and hypocrisy. The Star apparently saw fit to censor the photo-shop illustration of John Dillinger's penis (which was also ridiculous) in Metromix this past week. But then it parades this image of a young woman's butt and more hanging out. Since this image runs under the heading of "Charity Bikini Wash at Brad's Brass Flamingo," it must be OK, right? Ah, but there's not a single word about what charity was helped, etc. Could it be just a poor excuse to run butt-cheek photos of friendly neighborhood strippers?
The Star should at least have the decency to properly label its package -- "Metromix peddles soft porn. Thanks for slavering over Metromix."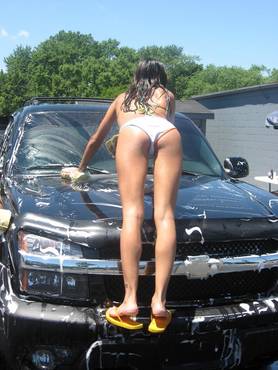 Comments
Comments are closed.